Publications & Conference Presentations
---
Research Projects
Storytelling across the arts, film, media, literature, cultures, and languages (Portuguese, French, English, and Spanish) is an essential component of my research work.
---
Refugee's Figure in Films and Novels
In the last few years, a great number of films, novels, and art projects have explored the theme of refugees and included refugee characters in their narratives. While the media landscape is saturated with images and stories emphasizing refugee struggles, very few research projects in aesthetics and philosophy have sought to analyze and understand this narrative figure and contemporary phenomenon. The reading and scholarly public is hungry, I believe, for an analytical study of film and refugees.
Cinema has long portrayed displaced persons and explored the limitations of the medium in representing unknown spaces. Contemporary filmmakers have sought to depict the condition of segregation and social marginalization that refugees endure, and in so doing have approached the ambiguities and apprehensions of being elsewhere, of lacking a sense of home, and perhaps even a direction. Refugee characters in this sense unfold the unknown without the guarantee of redemption, trapped in restricted, dangerous, and conflictual spaces where time also may be subject to a different definition.
This research explores through the lenses of film, literature, and philosophy (Arendt, Agamben, Deleuze, Bergson, Rancière) how refugee figure shapes contemporary storytelling. Thus, each chapter will explore some recurrent and particular themes through refugee's figure storytelling following and surveying its narratives and plots.
---
Diaspora et les cinémas interculturels brésilien et canadien
La recherche s'est développée principalement sur le concept de Cinéma Interculturel a partir du point de vue des Études Culturels (Cultural Studies). Ont été analysés les textes d'Edward Said, Stuart Hall, Salman Rushdie, Homi Bhabha, et plus spécialement dans le cas cinématographique Hamid Naficy, Laura Marks, Atom Egoyan, Marie-Aude Baronian, Trinh T. Minh-Ha, Fredric Jameson, Mary Ann Doane, entre autres. Ce que concerne aux principaux films de l'étude : Claro de Glauber Rocha, Calendar de Atom Egoyan e Um passaporte húngaro de Sandra Kogut, j'ai ajouté un film canadien que je considère que m'a fait avancer dans la recherche : Girl from Moush, de la cinéaste Gariné Torossian. Le film est un court-metrage qui est venu pour donner equilibre au travail de comparation et annalyse auprès des films. Je le considère le juste opposé au film de Kogut. GFM est réalisé par une femme et touche des sujets comme les origines culturelles de sa réalisatrice, dans une perspective très autobiographique et dans une relation presque organique avec l'image cinématographique, comme celle de Kogut.
Dans le travail de recherche postdoctorale, tout c'est bien passé et les résultats sont très positifs, principalement ce que concerne à l'expérience d'enseignement. Le cours a été basé sur le projet de recherche, donc j'ai pu travailler tous les points ainsi que contempler d'autres aspects plus simples et basiques comme les définitions d'exil, diaspora et nomadisme à partir des Etudes Culturels (Cultural Studies). Les étudiants provenus des plusieurs domaines en Arts et Communications avaient des approches différents sur le sujet du cours, car la moitié a vécu d'une certaine façon de proche ou de loin une expérience d'exil. À la fin de la session, ils ont produit plus des dix films vidéos et vingt essais écrit sur le sujet de l'exil et le cinéma interculturel. Un résultat bien supérieur que j'ai m'attendais, autant du niveau de la qualité quant de la diversité des approches techniques et discursifs.
---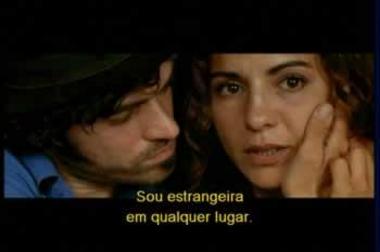 The Aesthetics of Subtitles in Art, Literature, and Films
Subtitles engage indirectly in the vital matters of foreignness, difference, otherness, and translation. This project focused on film, music, literature, audiovisuals and visual arts – and the artists, filmmakers, and writers that developed their works in the diaspora. The subtitle in a film translates the words, but what about the images? Can images be subtitled? How can filmmakers reconcile text and image? Subtitles mean different things for different people in different contexts. If we talk about subtitles in a film context, "every film is a foreign film" (Egoyan and Balfour, 2004, p. 2) to someone, somewhere. Subtitles point out an idea in translation. How do we translate a piece of art—when behind that art there is an entire culture?
This also examines the different natures of diasporas with analysis of works in theatre (Wajdi Mouawad), African and world music (Carlinhos Brown, Manu Chao), literature (Kafka, Huston, Rushdie), painting (Gorky), film (Egoyan, Mehta, Gatlif), experimental audiovisual (Torossian, Minh-ha), documentary (Kogut, Tarkovsky), photography (Salgado), and poetry (Elizabeth Bishop).
Subtitles in a film, instead dubbing, in addition to translating the dialogues, can maintain the original language and sound of the film. In some countries, for economic or political or other reasons, subtitling is just not "allowed." By discouraging or prohibiting the use of subtitles in films, some countries draw attention to the issues of nationalism. How can subtitled films threaten a national culture? How can subtitles define media and market strategies? Their distributors are accustomed to dubbing all foreign films thus denying people's access to foreign languages. Subtitles offer the audience a way into distant worlds, enabling them to experience different cultures and defining for them what is foreign.
Today with the increasing number of intercultural, cross-cultural and multicultural films, subtitles and foreign languages inhabit the screen and become more and more a part of the aesthetic and even the conception of a film. The film may also be translated for foreign audiences and screenings at international film festivals. Globalization expands the subtitling industry as new demands in inter-lingual practices are created. For example, one single DVD can provide subtitling in several languages. Should we conceive of cultural globalization as a cross-cultural translation that allows the comprehension of work or access to this work? Is cultural globalization a transformation or a creation of the senses? Globalization and new technical filming devices bring new challenges to contemporary cinema. Digital media and subtitles as cultural translation, create a new approach to subjectivity in global cinema.
---
Research Centres Affiliation
IFM Lab: Interactive Film and Media Research Network
Betinho Group Project – Ryerson University
Crialt Intermediality – Université de Montréal
Centro de Estudos da Oralidade – PUC University – São Paulo