There are periods in history that scar societies and moments in life that transform us as individuals.​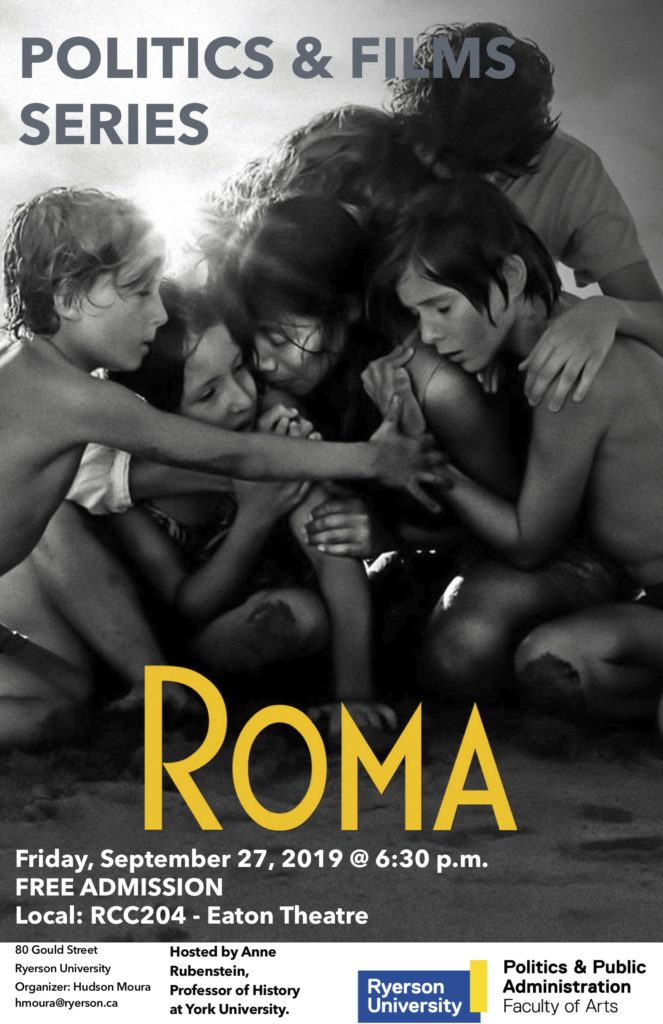 Date: Friday, September 27th
Time: 6:30 – 9:30 pm
Local: RCC204 (Rogers Communication Center, 80 Gould Street)

Film: Roma (Mexico, 2018) Alfonso Cuarón (Awarded all over the word including 3 Oscars, 2 Golden Globes, and 3 BAFTAs)
A year in the life of a middle-class family's maid in Mexico City's upscale Colonia Roma district, a quiet but swift change is on its way in the early 1970s.

Guest Host: Anne Rubenstein, Professor of History, York University
Anne Rubenstein is Professor of History at York University, where she is also a Fellow at CERLAC, the Centre for Latin American and Caribbean Studies. She specializes in the history of gender, sexuality and media in twentieth-century Mexico. Her first book, *Bad Language, Naked Ladies, and Other Threats to the Nation: A Political History of Comic Books in Mexico* was published by Duke University Press in 1998; she has published numerous articles and edited books and special editions of journals on topics including visual art, professional wrestling, and Harry Potter; she is completing a book on the history of Mexican movie audiences. Her most recent article, "A Sexual and Sentimental Education: Men, Sex and Movie Theatres in Mexico City, 1920-2010" is forthcoming in the journal Estudios Mexicanos.