I fear our democracy was nothing but a short-lived dream.

A cautionary tale of a democracy in crisis.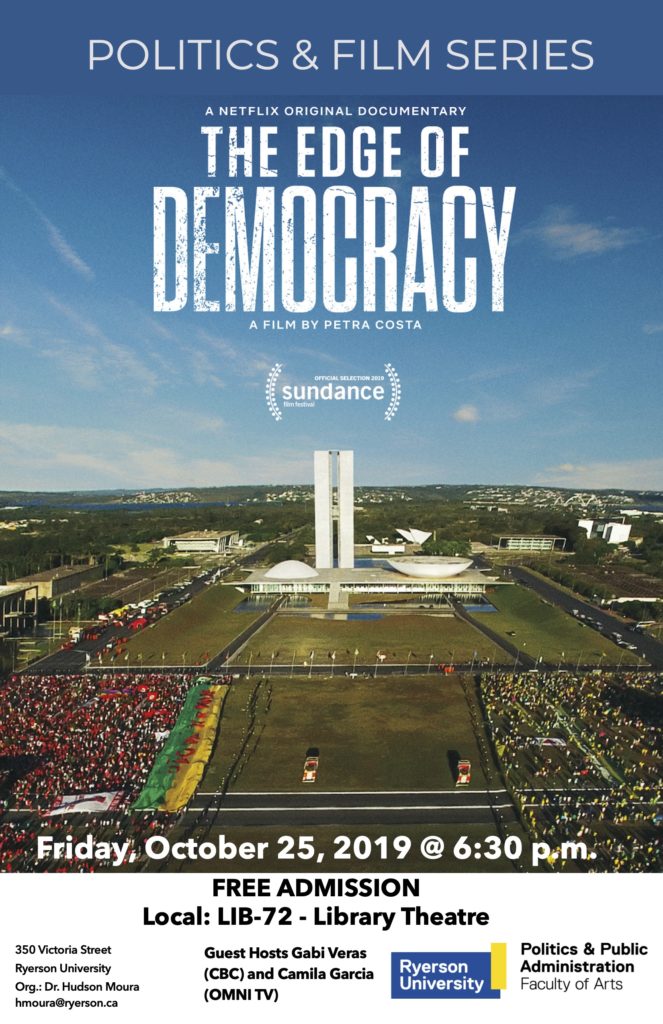 Date: Friday, October 25th
Time: 6:30 – 9:30 pm
Local: LIB-72 (Library Theatre, 350 Victoria Street)
Film: The Edge of Democracy (Brazil, 2019) Petra Costa (Nominated Best Documentary at Sundance and HotDocs)
Political documentary and personal memoir collide in this exploration into the complex truth behind the unraveling of two Brazilian presidencies.
The Edge of Democracy (Brazilian Portuguese: Democracia em Vertigem) is a 2019 Brazilian documentary film directed by Petra Costa. The film follows the political past of the filmmaker in a personal and intimate way, in context with the first mandate of President Lula until the process that culminated in the impeachment of Dilma Rousseff, analyzing the rise and fall of these rulers and the consequent polarization of Brazil. It had its world premiere at the 2019 Sundance Film Festival.
Critical response: A. O. Scott of The New York Times praised the film, calling it "a chronicle of civic betrayal and the abuse of power, and also of heartbreak." Leslie Felperin of The Guardian gave the film 4 out of 5 stars, saying, "Costa manages to craft an intimate primer about the state's descent into populism and the fraying of the country's democratic fabric." David Ehrlich of IndieWire gave the film a grade of B, and described it as "an angry, intimate, and haunting portrait of Brazil's recent slide back into the open jaws of dictatorship."
Guest Hosts: Gabi Veras (CBC) and Camila Garcia (OMNI TV)
Gabi Veras spent almost two decades working as a reporter and news producer, both in Canada and Brazil. Recently, after a MFA in Documentary Media at Ryerson University, she shifted her focus to longer term projects. Gabi has been working as a Researcher and Story Producer for various series of documentaries. The latest projects she was involved in were Equator 360, for Animal Planet in Canada, and Slave Ships, about the Transatlantic Slave Trade, to be aired on CBC in 2020.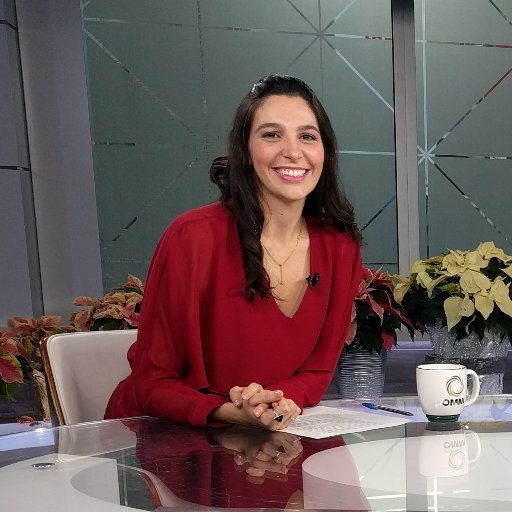 Camila Garcia holds bachelor's degrees in Radio and Television and Acting, and a post-graduate degree in Visual Storytelling at Maine Media College (USA). With over 8 years of working experience in film and television industry. As a filmmaker, she has directed short documentaries and fictional films that have been accepted at international festivals and screened in theatres. Currently, she works as a TV Host and reporter for Focus Portuguese, a weekly newscast at Rogers Omni TV.