Politics and Film Debate @ Ryerson: Virtual Panel Discussion on Wonder Woman 1984 (2021) Directed by Patty Jenkins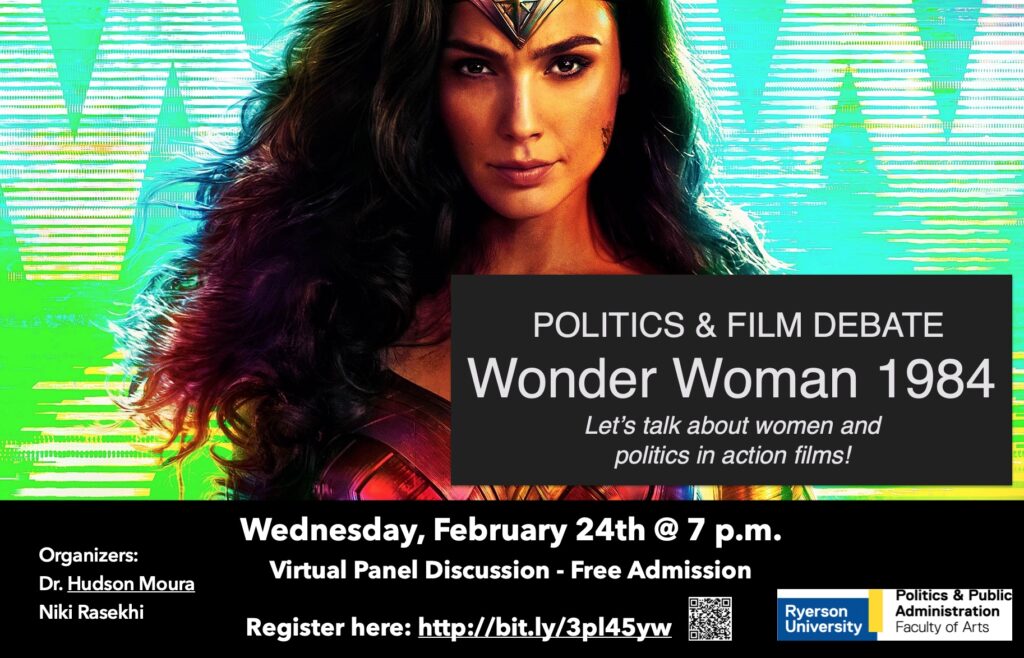 Wonder Woman's first installment released in 2017 was not only a box office success and also hit a "cultural nerve" for changing women's position in the male-dominated world of action films. On the sequel's long journey to audiences, the Wonder Woman 1984 world premiere was postponed three times due to COVID-19. On Christmas Day, the film became the first Hollywood blockbuster to be directly released on the Internet.
One of the main discussion topics of these Politics and Film Debate panels is to discuss the ability of a film genre (such as action) in promoting a political debate. For the director Patty Jenkins, the first Wonder Woman was the birth of a hero, and the second was to produce "something" with that hero. What kind of female empowerment or political discourse WW1984 engenders?
Register in the link below to get the Zoom meeting code and password:
Virtual Panel Debate with
Nika Jalali (Performance Production)
Matt Major
Ellen Reade
Sheridan Riggillo (RTA: Media Production)
Bren Robinson
Moderator/Organizer:
Niki Rasekhi (TRSM: Marketing)
Organizer:
Dr. Hudson Moura